Paragraphs
Headline (optional)
WORKSHOP: The Tunis International Centre for Environmental Technologies (CITET) organized a Kick-off day to launch the TouMaLi project on November 13th 2021
Image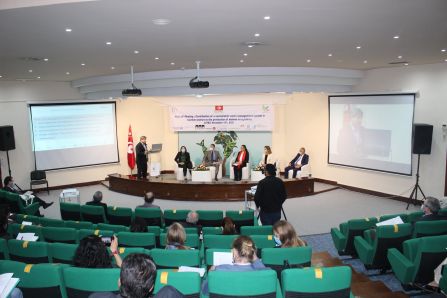 Text (optional)
As part of its activities of Technology Transfer and Innovation, CITET organized Saturday, November 13, 2021, under the aegis of the Minister of the Environment a Kick Off day to launch its project TouMaLi: Contribution of sustainable waste management systems in the tourism sector to the protection of marine ecosystems.
This project financed by the German Federal Ministry for the Environment, Nature Conservation and Nuclear Safety (BMU), within the framework of the Marine Litter Financing Program and led by the University of Rostock is a regional project for the transfer of innovative technologies at the level of the 4 partner countries, namely Algeria, Egypt, Morocco and Tunisia.
The main objective of the project is to reduce the abundance of marine litter in the Mediterranean Sea by developing and implementing a sustainable waste management system for the tourist regions of North African countries bordering the Mediterranean Sea. The proceedings of this day were opened by the Minister of Environment accompanied by representatives of the Ministry of Tourism and the German Embassy in Tunisia.
During the opening session, emphasis was placed on the importance of the theme of the project the importance of such initiatives for the identification of technical and managerial solutions to solve this delicate problem. This day brought together representatives of the international partners of the project, namely the University of Rostock, the Leibniz Institute for Baltic Sea Research Warnemünde: IOW, LandBell Group and econnexions with the participation of various stakeholders in the field of waste management, coastal management and tourism sector: public bodies, NGOs, municipalities, hoteliers, and all interested parties. This day, which took place in two plenary sessions, was an opportunity to present the project and its different components by the different partners.
The second session was an opportunity to learn about the different themes around waste management in the tourism sector and coastal management. During this day, all speakers have stressed the importance of the subject and the urgency to find a solution tailored to the Tunisian context to minimize, recycle and treat plastic waste and especially those produced by the tourist activity in order to protect the Mediterranean, this ecosystem weakened day by day by the huge quantities of waste that are dumped. The debates also focused on the importance of coordination between the various stakeholders to address this problem and implement efficient solutions.
Here you can find the link to CITETS social media post about the event: https://www.facebook.com/CITET.Tunis/posts/252287426936654
Text for Teaser and Metatags